Tel: 913-906-0400 • Fax: 913-908-9815 • USA
PurePack Chemical Filter for Oil Dialysis

PurePacks the oil purification medium in the OilPure unit, is a scientifically blend of chemical compounds in either three or five layers.
PurePack Chemical Treatment Can Be Customized to Remove:
Solid particulate removal down to as small as 1 micron . Get ISO code 13/10 to ISO code 14/11 oil cleanliness.
Absorb emulsified water down to less than 100 ppm from 3,000 ppm in dirty oil.
Remove oxidation by-products causing high acidity in Total Acid Number (TAN)
Retain original oil additives that protect your equipment.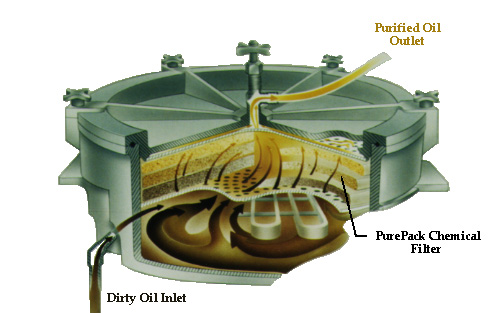 PurePack can be designed to purify a broad range of industrial oils to specifically remove oil contamination and alter both physical and chemical changes in the lubricating oil that cause oil deterioration.

Unused PurePack are non-hazardous, food grade quality and most of them are bio-degradable materials. According to present federal EPA regulations spent PurePacks generated from non-toxic contaminated oil can be incinerated or landfilled by any qualified industrial waste disposal company.