OilPure Technologies, Inc. …………………………. The Ultimate Oil Purification for Industries
Welcome to OilPure Technologies. Keeping continuously clean oil in industrial equipment will reduce more than 80% of equipment downtime and costly repair.
There is a hidden area in productivity improvement that currently has been ignored by manufacturing as well as the hidden profit in term of ROA Return of Asset.
A Proactive approach to clean oil is the answer to this hidden productivity improvement that is a must for the new economy manufacturing platform.

Industry Overview: American Industries consume approximately 700 million gallons of industrial lubricants annually. Less than 7% of these used lubricants have been recycled for reuse by industries.
There is a dilemma among industry related to the procurement of industrial lubricants.
If new oil replacement is ignored, there will be substantial damage, deterioration in plant equipment and considerable added manufacturing costs.
If new oil replacement is pursued, there will be a pending waste oil disposal problem facing the plant engineer under current EPA (Environmental Protection Agency, US Government) regulation. This dilemma has plagued many industries and they hope that there will be a better solution for effective oil management systems.
This dilemma has been a common problem for manufacturing.
We will extend the oil life and bring back the used oil that lost its lubricating property back to a "like New" oil condition to reduce the expensive cost of new oil replacement.
With the concept of Zero Waste Oil Discharge, Zero Machine Downtime, Total Oil Contamination Control, reduce Defective products that caused by precision lubricated machines, and Built-in Quality Control from Precision Tolerance from excellence lubrication quality that is a Friction Free Machine.
Life Extension of Lubrication leads to the Zero Cost (Asset) that enhances the ROA (Return on Asset) of the company. As equipment has already paid for and no pending maintenance and downtime costs due to continuous clean oil in the equipment.
When the production machine is paid off, there is no depreciation cost. If there is no repair cost, and machine downtime cost, this machine become the Zero Asset Cost, no additional costs attached.
Zero Asset Cost brings new revenue which has been a hidden profit called, ROA (Return on Asset). This "Cost Earning" brings pure revenue to the company (no other costs attached), while Cost Saving is merely the cost reduction at the expenses of operating costs.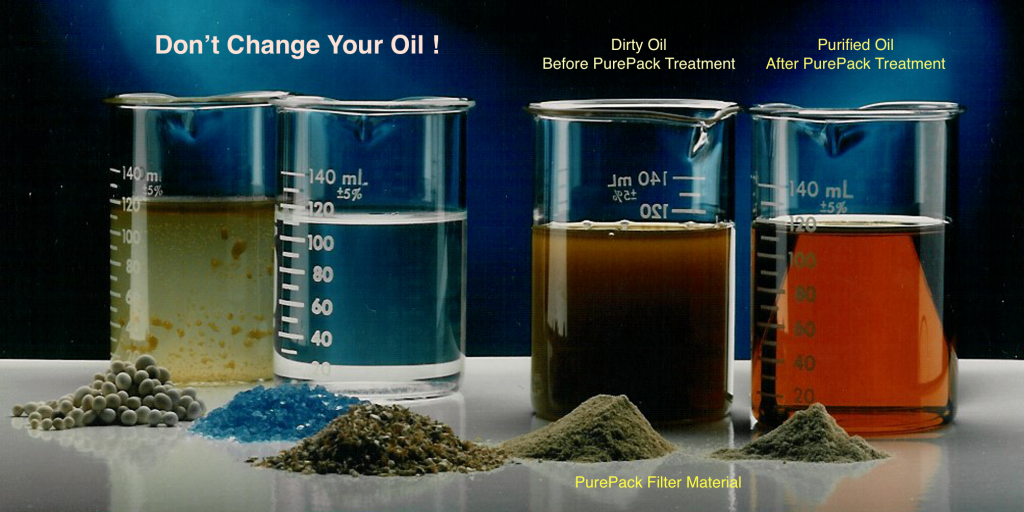 Don't just filter the oil, Purify your oil and keep it continuously purified in your equipment.
Who Are We: OilPure Systems™ is a manufacturer of an oil purification system for various industries. OilPure is an R&D based company which has developed its own proprietary patented oil purification technology to solve industrial lubricating oil problems. Our expertise is in Tribology and Lubrication Engineering. We are located in Kansas City, Missouri, USA.
What We Do: OilPure develops custom solutions for virtually any application involving industrial oil management. With OilPure oil management systems, lubricants can be re-used for decades, thus drastically reducing new oil purchasing and waste oil disposal, and improving productivity for industries to be more competitive in the global economy.
Our Uniqueness: The unique patented technological feature of OilPure is the ability to remove total oil contamination such as one micron particulate, dissolved water down to less than 100 ppm and oxidation by-products which cause high readings in Total Acid Numbers (TAN). OilPure can bring used oil back to its original new oil condition. Supplemental Oil Additive can be refortified to the purified oil to enhance the missing depleted additives and improve lubricity as well as lubrication longevity.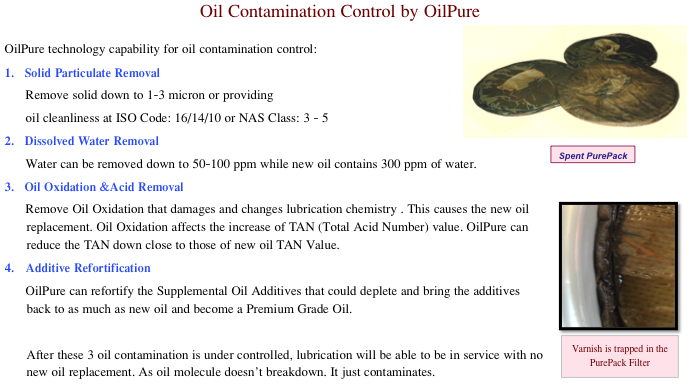 Conventional filter may handle just one type of contamination such as solid particulate in 3 micron or 10 micron sizes and leave behind emulsified water and oxidation by-products.
Conventional expensive water distillation methods require oil high heating and high vacuum to boil the water out at low oil temperature, with a separate filtering process for particulate removal. Some other water absorption methods such as water eater chemical, can affect the oil additive molecular structure and leave the dried lubricant with inadequate oil additives.
Most oil acidity and oil oxidation by-products are usually removed by Clay or Fuller Earth filtration. These ordinary filtration methods can strip important oil additives and contaminates the oil with minute silicon dust particles. Neither one maintains the oil in like-new condition. OilPure can handle these problems in one process.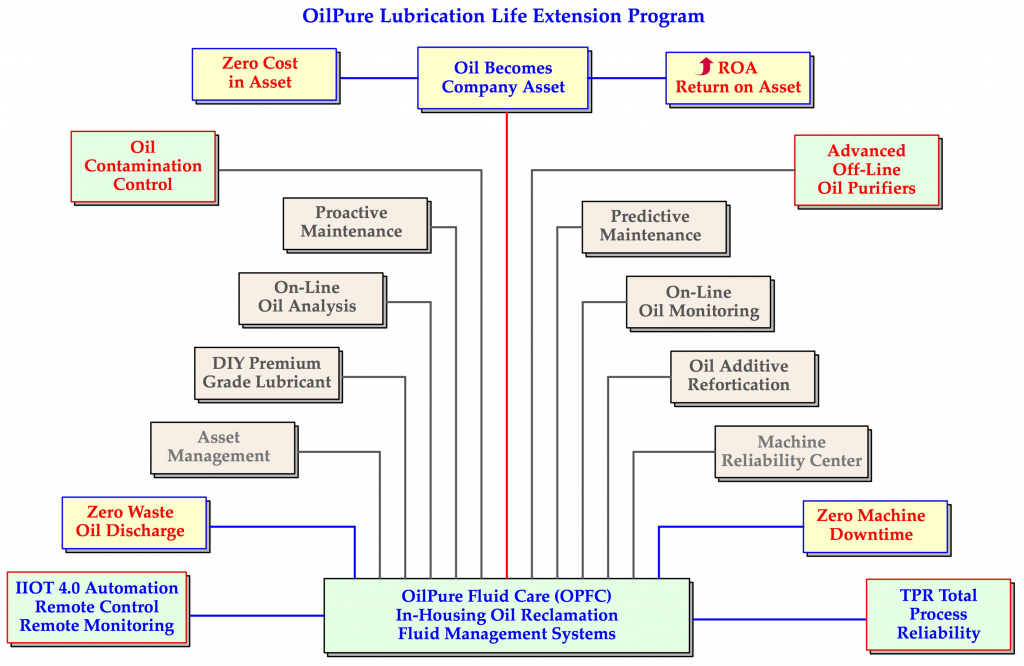 Our Expertise: Here are the solutions that OilPure can provide:
Reduce 80% of hydraulic equipment failure with Oil Dialysis cleaning operation to remove oil oxidation by-products that deteriorate servo or proportional valves such as plastic injection molder, precision hydraulic press etc.
One of OilPure customers who uses the plastic injection molding, have the proven records showing that they reduced the servo valve usage from 20 pieces to 2 pieces annually in less than one year after OilPure installation.
OilPure systems can dramatically reduce the need to purchase new replacement oil and reduce the cost of waste oil disposal. The life of purified oil can be extended up to 10 years.
Improve part precision quality for machining operation by providing less than 20 micron particulate clean cutting oil supply as a built-in precision quality control process. A continuously clean cutting oil supply will help extend tool life by 15% to 30% and reduce machining time from equipment deterioration.
Consistency of quenching speed and quenching time can be controlled by quenching oil cleanliness. As quenching oil becomes contaminated, excessive carbon and oil oxidation will cause poor quenching oil performance which affects the quench speed. Surface stain and surface embedded carbon will cause the weak spot on part surface. This heat treated part will eventually deform under stress over a period of time and fracture prematurely.
Establish an In-house oil reclamation system to recycle the used lubricating oils. This affordable automated system will save more money for industries to recycle their lubricants on site, rather than paying for expensive outside oil recycling service or oil re-refining by outside services.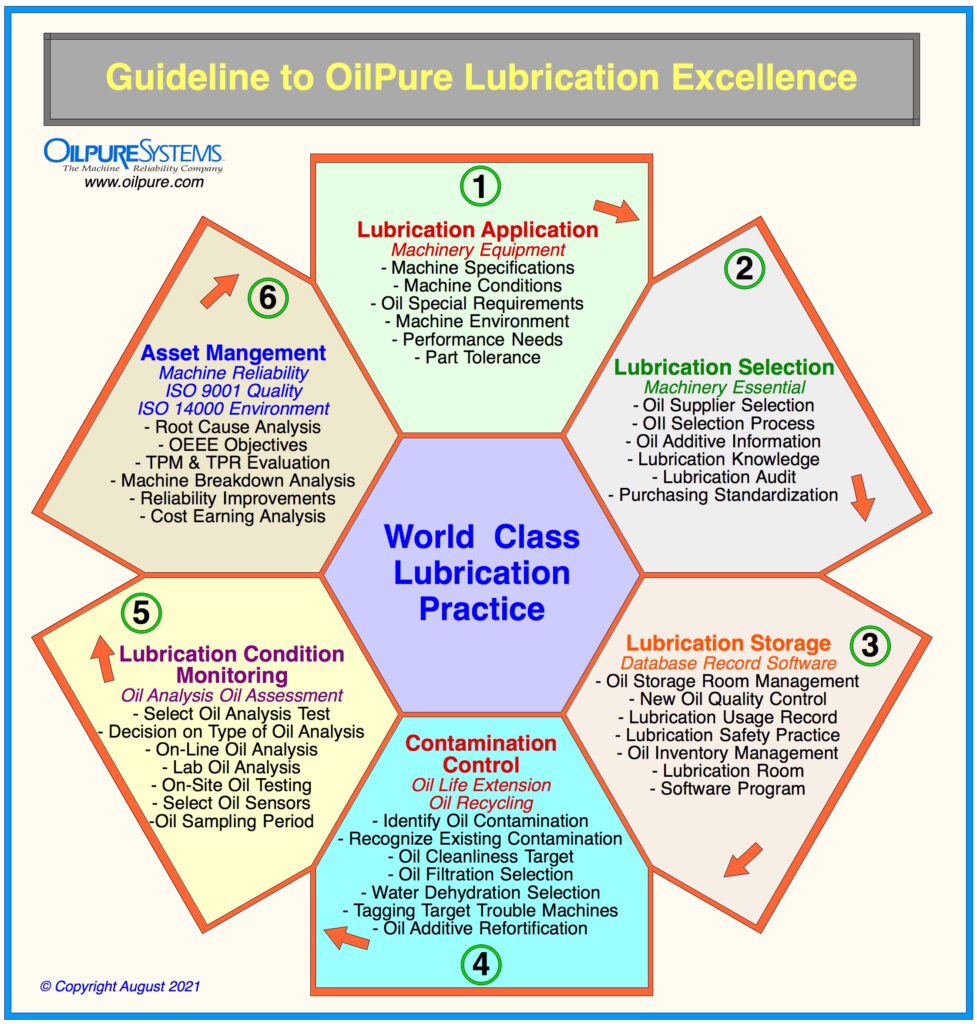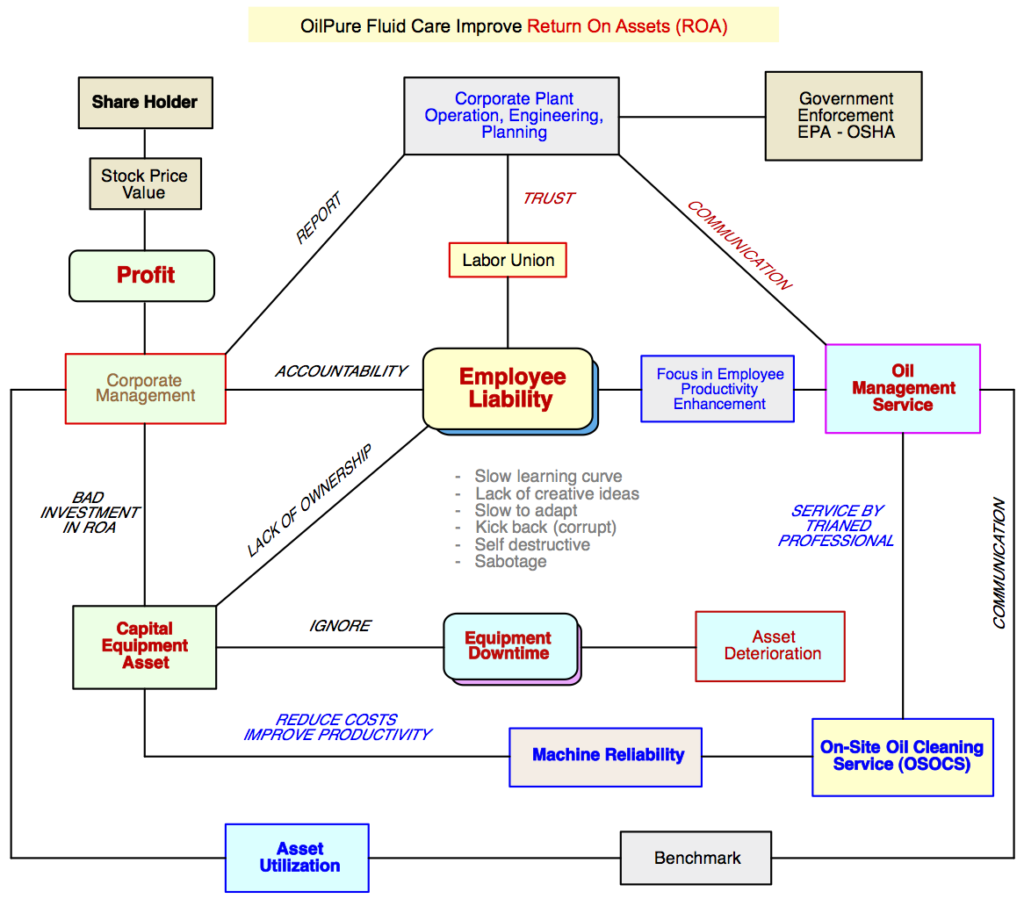 With special prescription most missing or depleted oil additives such as anti wear, anti oxidant, rust inhibitor etc., can be refortified in the recycled-purified oil to upgrade the lubricating quality so the recycled oil can be as good as new oil.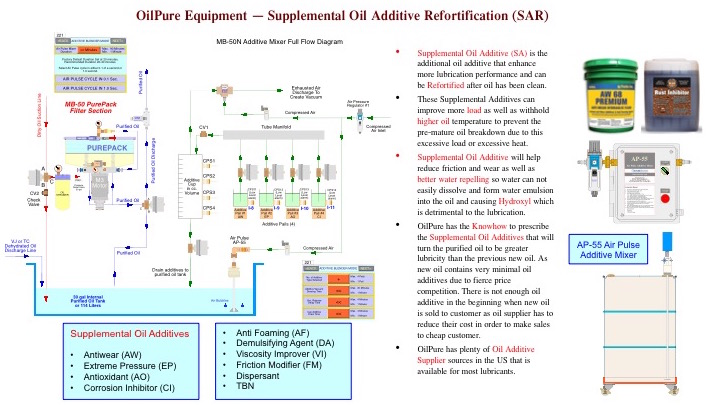 OilPure oil reclamation system is a fully automated, IIOT 4.0, Mini SCADA system which utilizes the remote control monitor technology and or the remote control operation to monitor and operate the system from lap top computer or mobile phone.

Lubrication Life Extension Program – OilPure extends the used oil life back to the"New Oil" condition with our advanced oil purification technology. By remove total oil contamination from the used oil so oil can be reused and remain its original lubricating properties so it the Zero Waste Oil Discharge. The Zero Machine Downtime comes from OilPure Tribology experiences helping customer in Wear Analysis, establish the Proactive Preventive program for machinery so these machines become Friction Free Operation that prevents machine from damages.
Proactive Preventative Oil Maintenance – Excellence oil contamination control is vital part of Proactive Preventative Oil Maintenance program that leads to the 80% reduction of machine failures.
OA-1 On-Line Oil Analyzer with IIOT4.0 Wireless Remote Monitoring & Remote Control Mini SCADA from OilPure is the On-Line oil testing device that reads oil contamination and additive depletion on the Real Time basis while the equipment is in operation 24 hours – 365 days a year. The OA-1 will determines the changes in lubricating properties and assimilate the Characteristic and Behavior of machine lubrication. This data will reveal Oil Contamination Ingression Rate that allows us to design the proper preventive control of the oil contamination that disrupts the machine performance. While the conventional oil analysis from laboratory is merely a guess work on a periodic basis. As saying in Six Sigma, What get measured, get controlled.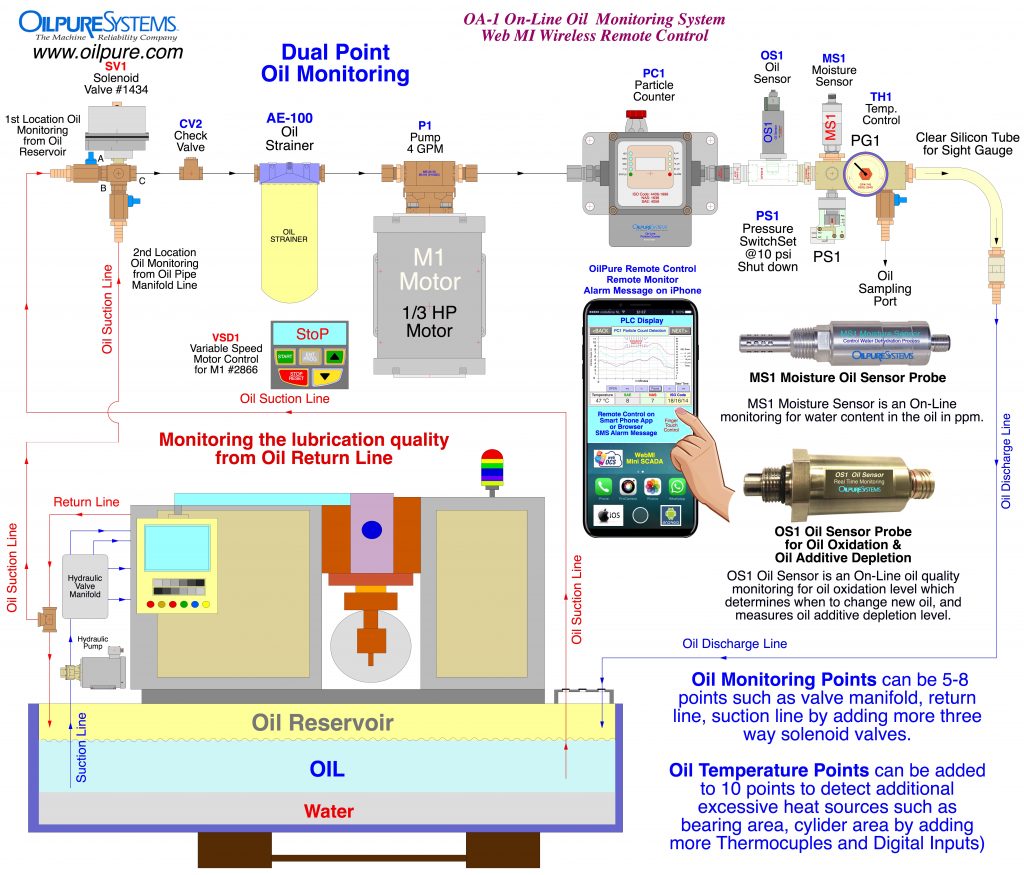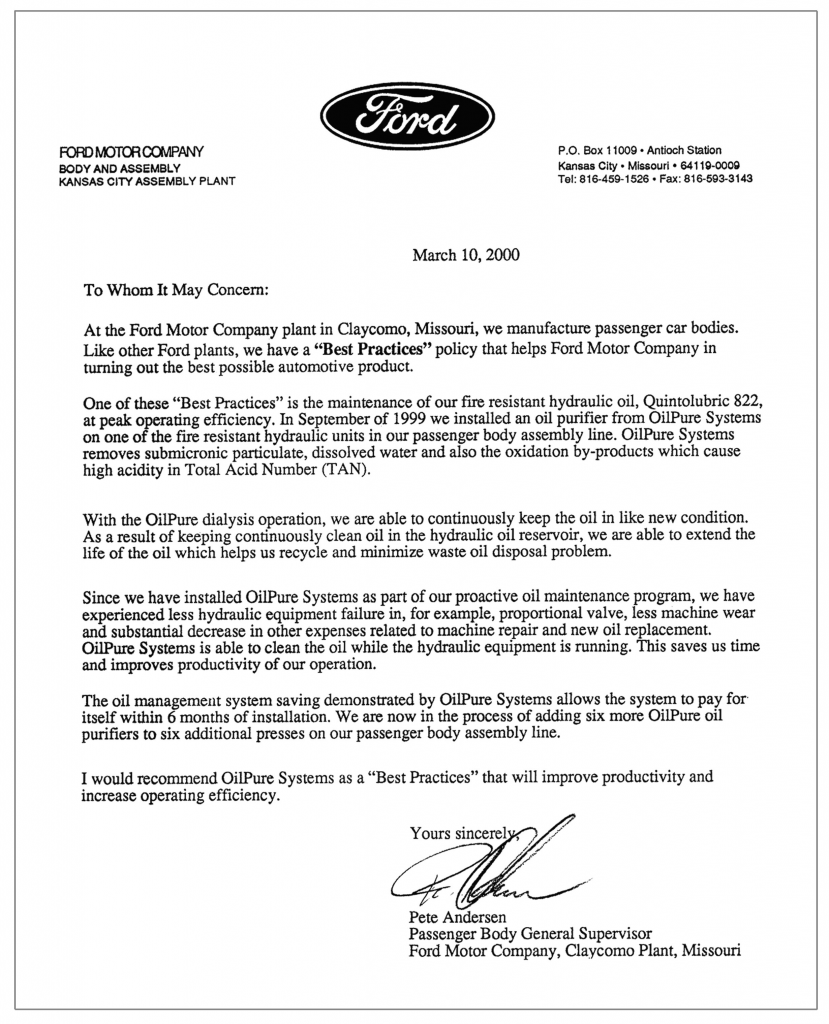 OilPure Classic Video Introduction 30 Years ago in USA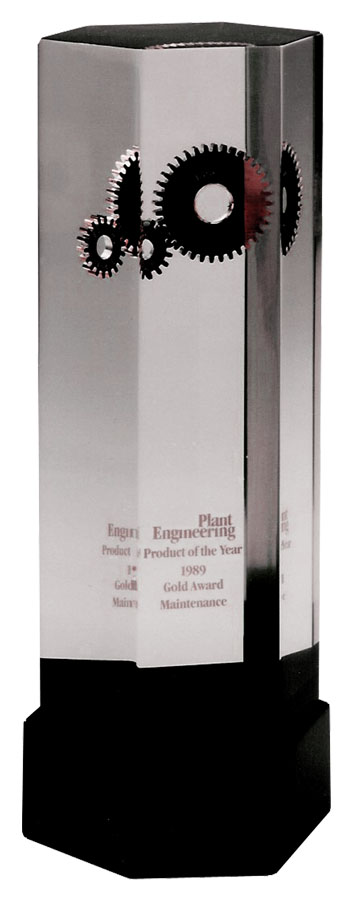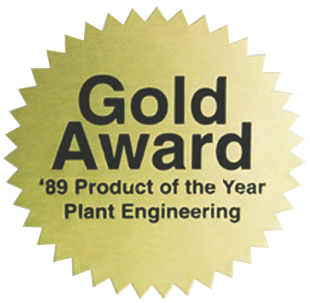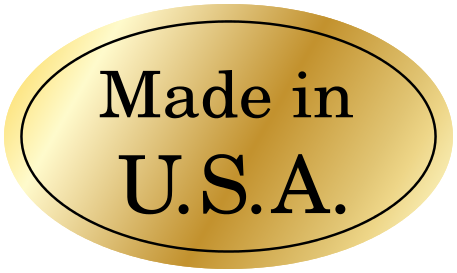 Please use the navigation bar on the left to access the site, and please don't hesitate to contact us if you need more information.
Contact Information:
Telephone:
Tel: 913-906-0400 • Mobile: 913-522-0272
SKPE ID: oilpure • LINE ID: oilpure • WhatsApp: 1-913-522-0272
Fax:
913-906-9815
Mailing Address:
P.O. Box 483976 • Kansas City • Missouri • 64148 • USA
E-Mail:
usa@oilpure.com
© Copyright, August , 2021
Document and information in this website is a proprietary information belonging to OilPure and is not allowed to reveal to public without OilPure consent.