2.1.1 Failure of Pleated Paper Filter
2.1.1 Failure of Pleated Paper Filter

Problem of Pleated Paper Oil Filter in Removing Minute Solid Particle
Pleated Paper Filter that is made of Cellulose, can only be 10 micron Nominal Value. This Cellulose material limits the micron size for smaller filtration. So it does not have enough micron rating low enough to keep hydraulic oil clean from small particle less than 10 micron size. The Cellulose Material Paper does not generate Electrostatic Charge in the oil.
Therefore, all hydraulic oil filter that has lower than 10 micron rating filter are made of Plastic Fiber Materials such as Rayon, Polyester, Nylon etc. that is webbed into the fiber screen to hold particulate from 1 to 6 micron Absolute Value.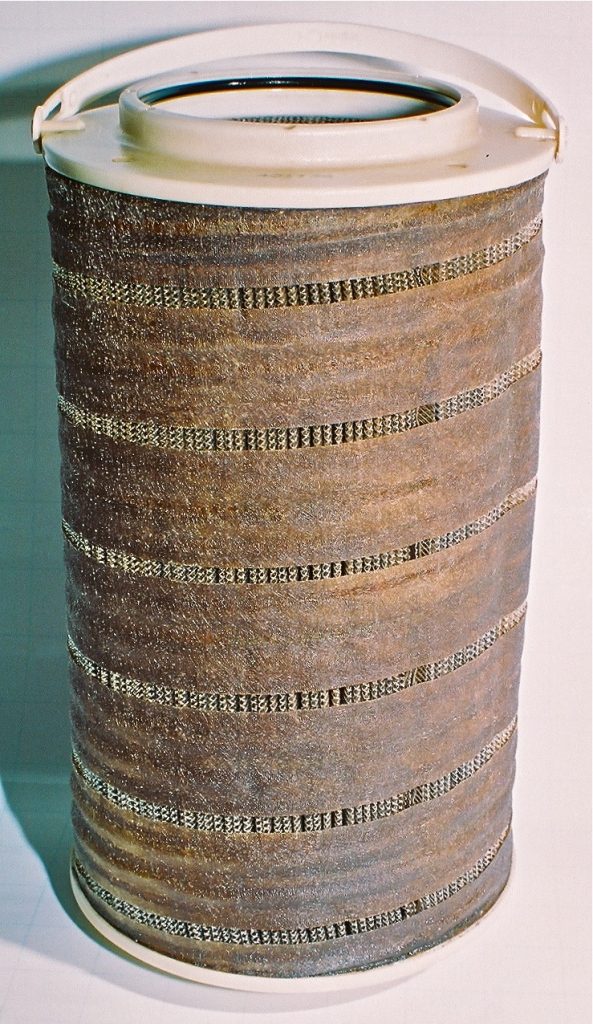 This plastic material filter is the source of Concurring Oil Oxidation that generated from Electrostatic Charge occurred during oil flow friction when oil is passing through this filter media. The Electrostatic Charge will dissipate throughout hydraulic components inside the oil. Oil is electrified and generates Spark and Oxidation from Electrostatic Charge Built up.
Electrostatic Charge from Low Micron Cartridge Oil Filters Causes
Oil Oxidation and Internal Corrosion in the Machines
Internal Corrosion came from the use of these Plastic Filter Materials in the filter. Internal Corrosion affect the + Charge and – Charge in the oil that came from Electrostatic Charge Built up.
The exchange of + Charge and – Charge activates chemical reaction in the oil and the Spark speeds up the Chemical Reaction into the "Auto Oxidation or Concurring Oxidation" while oil is flowing within the lubricating system. This Electrostatic Charge will easily occur in Low Viscosity Oil that has Low Conductivity with dry or less water content. This normally occurs in most transformer oil.
This Concurring Oxidation Damages to the oil is hardly been aware by most oil users as they though they need a good low micron filtration in order to get a good Particle Count in the oil. There are many research documents revealed this Concurring Oxidation in the past 15 years in America. We just want to share this knowledge and hidden problems in the oil.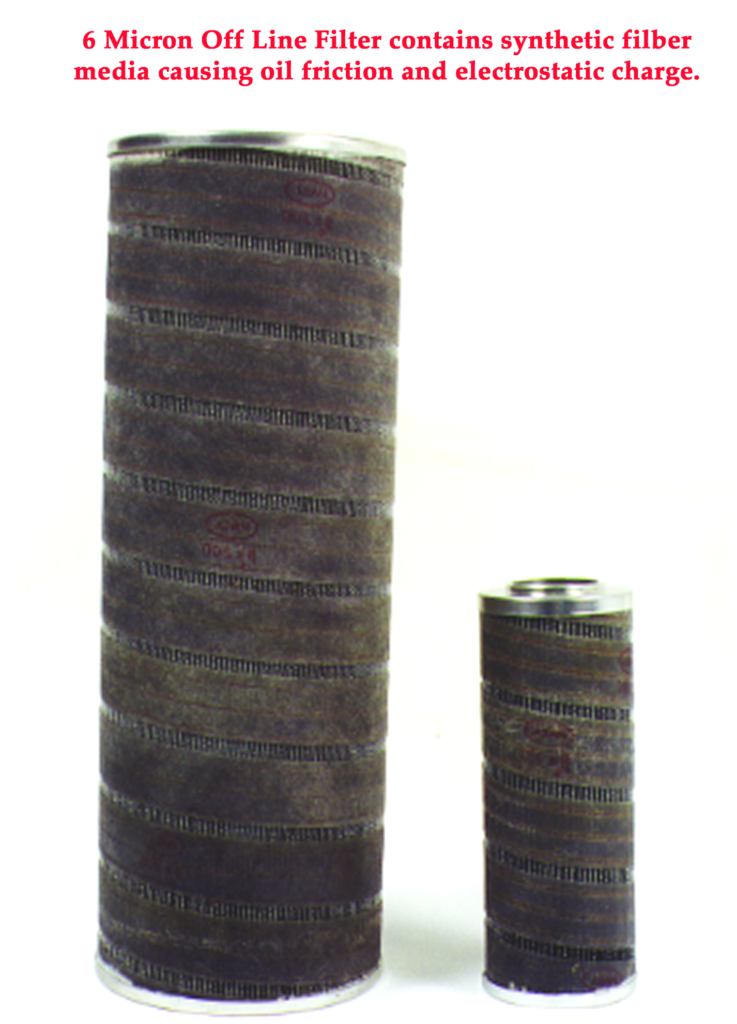 6 Micron Filter element inside filer housing that causes Electrostatic Charge
Oil becomes slowly oxidized from this type of plastic filter material and the severity is depending on the Flow Rate and Friction on the filter surface. The lower micron rating becomes, the higher friction occurs in the oil.
Oil Sample on left bottle is drained out from filter housing.
Observation point or Sign of this Pleated Paper Filter effect on oxidation can be noticeable at:

Look at the Sight Gauge of oil reservoir for any Distorted Color and it can not be wiped out.
Look for the Tank Wall of oil reservoir with flash light. You will see the brownish color on the tank surface that can not be wiped out.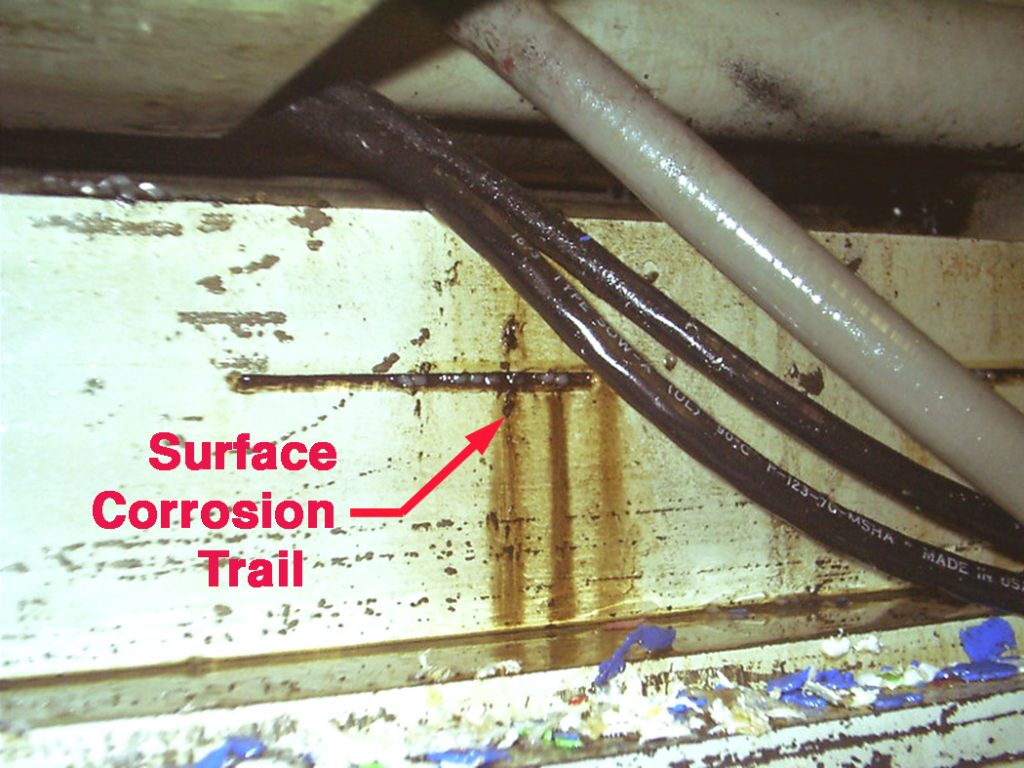 This sign is the beginning of Internal Corrosion Components.
One of Misunderstanding about how Pleated Paper Filter can clean high viscosity oil. The less than 10 micron paper filter is not able to filter oil having high viscosity of ISO 220, 320, 460, 680 grades due to the Pressure Drop across the filter media as pump can not push the oil through the filter and get good filtration retention. This generates Oil Pressure Surge and causes the Trapped Dirt Blow By migrating cross the filter media.
High Pressure is not the filter problem if the filter is properly rated for the high pressure, but the the Pressure Surge has substantial effect in Filter Media Integrity and Sustainability. Especially the Less Than 10 Micron Filter will even cause more Oil Pressure Drop due to Higher Resistance from the tight retention on filter surface.
Oil has to be heated at least 180 °F- 185 °F in order to be pumped through filter media and reduces Pressure Drop. This high oil temperature causes oil oxidation and additive depletion problems in the oil as well as Pre-mature Lubrication Breakdown. Every 2-3 °F increase in oil temperature after 180 °F will affect 300% increase in Oil Oxidation Rate and Oil Acidity Level.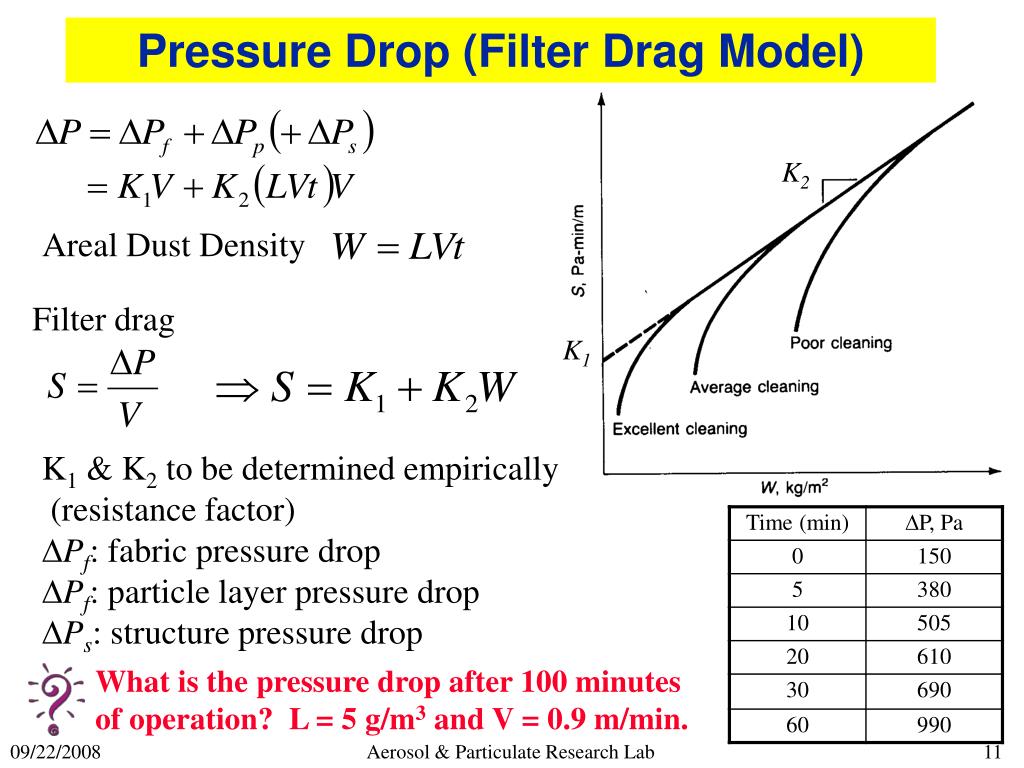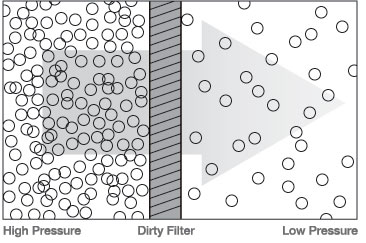 The above information is based on our experiences with users and their comments who wishes the manufacturer can improve their products. Please review with good discretion.
Contact Information – OilPure Technologies, Inc.:

P.O. Box 483976 • Kansas City • Missouri 64148 • USA • SKYPE ID: oilpure • LINE ID: oilpure
Tel: 913-906-0400 • Mobile: 913-522-0272 • Fax: 913-906-9815 • WhatsApp: 1-913-522-0272
© Copyright, August , 2021
information in this website is a proprietary information belonging to OilPure and is not allowed to reveal to public without OilPure consent.